Commercial Units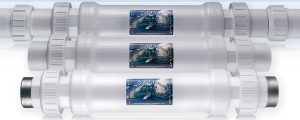 The Commercial Product is a powerful solution for bringing Structured Water® both indoors and outdoors for your business, farm, pool, landscape, and more.
This product is great for farm use, commercial building use, landscaping uses, etc.
For use on your swimming pool pump to continuously circulate Structured Water® in pool.
For structuring large amounts of water or other fluids that use a 1 1/4″, 1 1/2″ and 2″ pipe.