JOIN US FOR THIS LIFE-CHANGING EVENT
We are excited to announce that the International Training Institute of Health is coming to Wexford! Dr. Darrell Wolfe Ac.PhD.DNM. and his team of therapists work with patients who have exhausted all other avenues of therapeutic healing within their country. ITIOH therapists and trainers are leaders in the field of physical, nutritional and emotional therapy in North America and are known for hosting their training programs around the globe. All treatments & consultations come with a money back guarantee because their motto is, "If you can't guarantee your work then it should be free!"
Visit: docofdetox.com for clinic information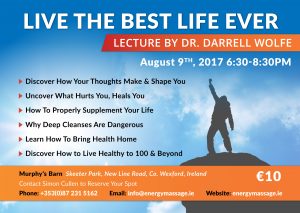 LIVE THE BEST LIFE EVER
August 9th Wednesday, 2017
The Domino Effect of Unconscious Living

Pain is a Warning, Friend or Foe

Thoughts Become Things

Bring Health Home, Bring Love Home

Exercise Made Easy

The Perfect Diet, The Perfect Day

8 Strategies to Optimal Immunity
SUPERCHARGE YOUR LIFE TRAINING
August 12th Saturday & 13th Sunday, 2017
This extraordinary 2-day event will change your life and revolutionize the way you think, feel and live. This weekend journey is the tipping point for those who wish to truly become the master of their physical and emotional health. Now is the time to create the life you wish to live!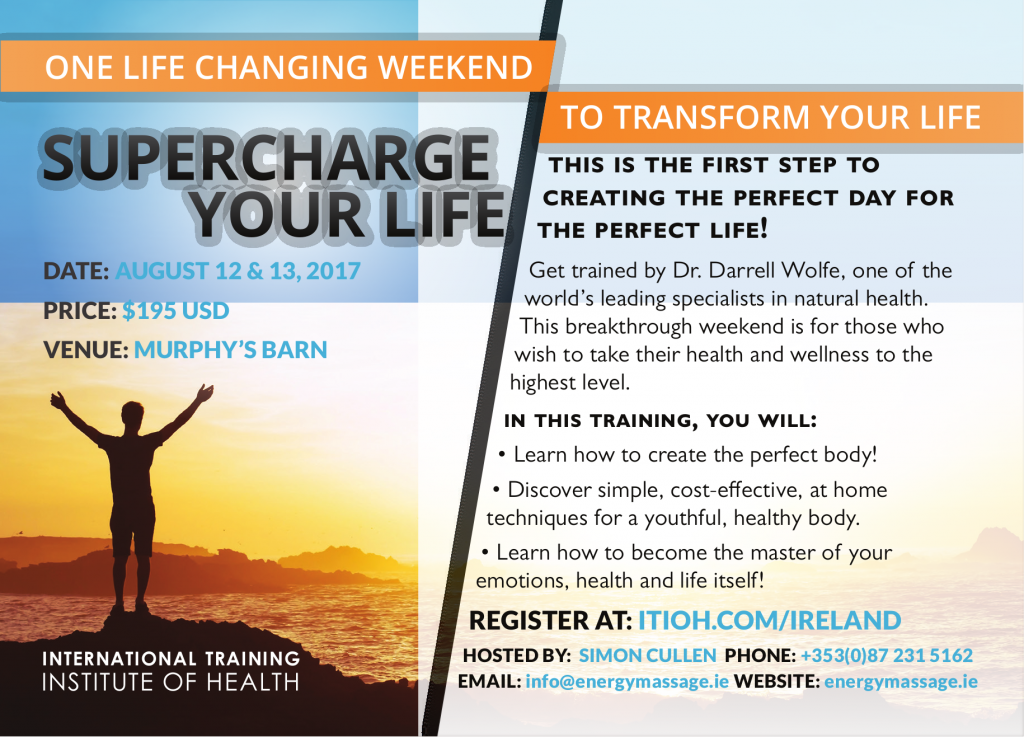 WHOLE LIFE COACH CERTIFICATION
August 14th – 19th , 2017
The 5 Day Whole Life Coach Certification Course has earned the reputation as being the most effective, life-changing course for practitioners to take their nutritional, detoxification, fitness, diet and emotional training to the highest level. All our graduates are provided with the most powerful techniques, strategies and product training along with ongoing lifetime support to ensure that they are always the leaders in their field. With this breakthrough training and our ongoing support, you will always have the confidence and the knowledge needed to create a new way of life for your patients. Your financial success will be measured by the success of your patients.
WOLFE DEEP TISSUE CERTIFICATION
August 21st – 27th , 2017
The proven 30-year body pain therapy that cures the so-called incurable. Wolfe Deep Tissue 7 Day Certification Course will teach you the most effective bodywork therapy ever developed to reverse the underlying cause of chronic and acute muscular, joint and skeletal problems, injuries, sports injuries, muscle loss (atrophy), autoimmune disease damage, internal scar tissue formation and organ restoration and balancing. The most impressive result from Wolfe Deep Tissue is the instant and long-lasting pain relief and increased range of motion, mobility, flexibility and tone that is experienced within the first treatment. Where other therapies fail, Wolfe Deep Tissue succeeds.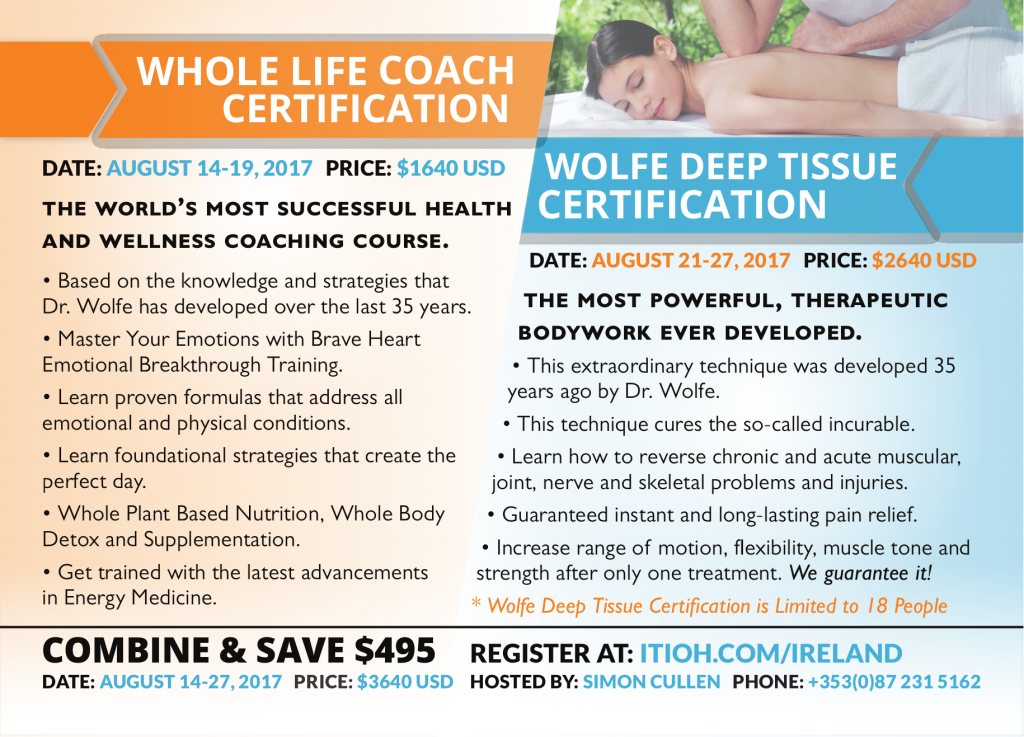 Visit: itioh.com for more information on training courses.
About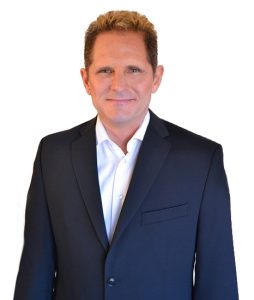 Dr. Darrell Wolfe Ac.PhD.DNM.
Author • International Speaker • Whole Life Coach • Teacher • Practitioner
Dr. Darrell Wolfe has 35 years experience in natural medicine and is known as the 'Doc of Detox'.
Dr. Wolfe's best selling book 'Healthy to 100' is the foundation from which he created his one-of-a-kind 'Healthy to 100 Community', where he hosts his weekly webinars and teleconferences to awaken the world with life-changing techniques and strategies. Dr. Wolfe has a weekly international radio show where he trains his listeners how to master their health, heal the body and awaken the mind.
He is also the director of the prestigious 'International Training Institute of Health', where he teaches and certifies his unique breakthrough training courses to all sectors of the public and the professional health community.
Dr. Wolfe's clinic and retreat are based in Kelowna, BC, Canada, where he treats, teaches and consults patients, locally and globally. Dr. Wolfe has been presented with the 'Order of Excellence' Award by The World Organization of Natural Medicine.