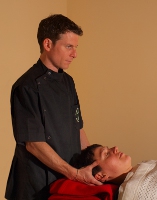 Simon & his passion for health,
Wellness and our ability to channel change is something that everyone has the ability to achieve given a clear knowledge, understanding and guidance. Having transformed and developed in his own life he has seen many ways of achieving wellness, healing & health. Having always had a strong interest in Alternative Health left the Restaurant & Catering industry  to pursue his interest. He first was drawn to studying Cranio Sacral Therapy as he had found this a very worthwhile therapy in redressing imbalances in himself and others. Studying Deep tissue Massage Therapy gave a start to addressing soft tissue and stress on the system. This has been further enhanced through meditation that has allowed for more sensitive approach through massage in healing the body. Lymphatic Drainage is a slow rhythmic massage, which follows the path of the lymphatic system of the body.  It is under the surface of the dermis layer of the skin. It helps to eliminate waste more efficiently, reduces swelling and helps the immune system fight infection.  Sports Injury & Rehab Therapy allowed deeper knowledge of repair and regeneration to be helped to more serious injury and long term rehab. Touch For Health (Basic Kinesiology) to enhance the treatment of emotional blocks, traumas, injury either from operations & birth traumas etc.. and GOAL setting. Releasing traumas from the past or allowing energy meridians to flow and balance. Simon still holds Massage as one of the key therapy's to enhance wellness as this works on all the areas leaving no stone unturned so to speak.
His passion for food and  Nutrition
has been a major factor in his life that has enabled him to turn around many emotional attachments to habits and destructive behaviors. Qualified Nutrition Advisor holds a Nutrition Dip Fetac Lv 5, Living Food Instructors Course at Irish Herbal Medicine School Portlaoise which delves into Living food and natural ways of healing the body through food, how to move to a raw food diet and vegetarianism. Also extensive study into the nutritional aspects of how and what to eat, what is right for the individual from inspirations such as Dr. Gabriel Cousins, Running RAW, Dan McDonald, Lou Corona and many more. Taking inspiration from such forward thinkers and pioneers helps Simon stay on top of what is important in his own life and therefore helps bring this information to you. Looking at RAW food, Live living foods, vegan, vegetarian, fish, meat etc… Understanding what happens when we want to change and how to maintain that change is important, then we can master it.
Simon is an avid speaker on water
hydration and wellbeing, meditation as these help people to have more control of their health. He works face to face or talks or on the phone to help communicate this knowledge to allow greater understand of healing and where to begin.
He practices what he preaches;
about, Having spent the past 10 years trying and testing all aspects from information and guidance of nutrition to detoxing, breath work, yoga, exercise and meditation. Some if not all areas of these are covered each day as a daily routine for his own personal growth. Using some if not all aspects relating to wellness and physical therapy's and theory associated with his therapy's each day allows Simon to maintain a deeper knowledge while experiencing for himself changes weather emotional, physical or spiritual. When these are working or new areas of interest are practiced then he looks at how to incorporate these methods and techniques not as individual components but as a holistic approach. To be able to provide the best solutions possible and bring about the quickest results, a key to helping him develop sensitivity and how best to integrate and develop his own brand therapy called Energy Massage has been with help of meditation and has had a powerful influence on everyday life and being able to stay positive and clear in his practice.
Treatment
 A session will incorporate many different techniques of these therapies and information and guidance from nutrition to detoxing, breath work, yoga, exercise and meditation. Using his skills and knowledge along with a detailed analysis to determine where he can help Simon incorporates patients medical history, Emotional, Spiritual & Physiological state to understand the causes and works in finding solutions. All these areas give help and a better understanding and insight in how to bring the best results.   This can be taken as a long term goal with treatments every so often or for more serious cases a treatment plan will then be discussed with the client if they wish to determine how to work towards optimum health. Simon's belief is that we each have the tools to help ourselves and in using various therapies such as massage this helps to bring about homeostasis (body within balance). Check out the therapies and a few of peoples testimonials that have been posted to help you to understand what is possible.