The Healthy Natural Choice For Great Tasting Drinking Water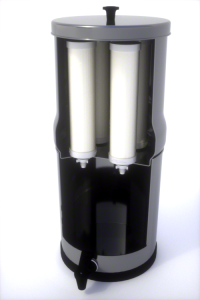 Gravity Fed Water Filters Remove 99% of contaminants. Producing Clean/Safe drinking water From Tap, Well, River & Rain
supplies 3 cents a litre
no installation costs!
with no plastic containers
half the price of Brita Filters & a fraction of the cost of bottled water.
Ceramic Filters, remove 99%
Bacteria & Amoebas: Cryptosporidium, E-Coli, Giardia, etc
Chemicals: Chlorine, Ammonia, Lindane, Nitrates, etc
Heavy metals & suspended solids: Lead, Copper, Mercury, Cadmium, etc
Fluoride: Removal cartridge available, on;y removes Fluoride
Price's (incl. Vat)
€245 for Stainless Steel unit complete with Ceramic filters and Fluroide Filters
€120 replacement filters 2 x Ceramic filters and 2 x Fluoride Filters
Price includes delivery
Also available as add on:
Full replacement is 6 months to 1yr (depends on water quality). each ceramic filter uses 2,000 ltrs.
Should you have any questions or require further details please contact Simon Cullen
FREE advice, just Ask Simon!